Update: since Parse has been shut down by Facebook, we've reacted by making the integration available only to current users of Parse Analytics.
Two days ago we've announced the integration of the image processing service Cloudinary and the affiliate marketing app called Referral Candy. Today is starting off by the integration with another analytics  tool called Parse Analytics. This means you can now easily browse the collection of services/clauses within iubenda and find & add Parse Analytics to your privacy policies.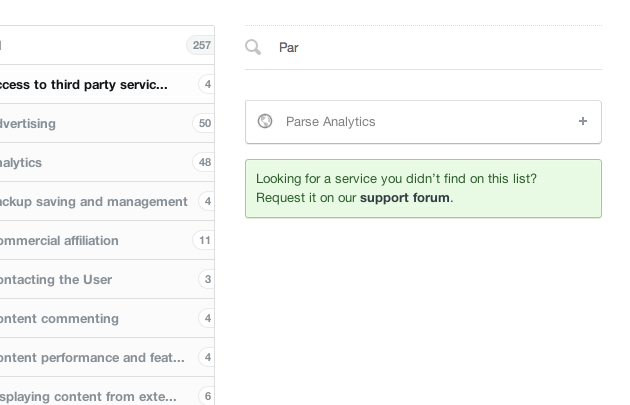 What is Parse Analytics?
Parse Analytics is a product by the Parse team that lets you properly analyze app usage and custom analytics.
With a single line of code, track any data point you can imagine in your app. Simply send us the data and we'll break it down for you in the Analytics dashboard.
Why include a privacy policy for Parse Analytics?
Analytics tools have the potential to analyze the behavior of your users. It's largely considered to be an activity that has to be disclosed to users/visitors of a website or app.
Parse has a paragraph for you to have a privacy notice in place in their terms, too:
3.3 You agree that you will protect the privacy and legal rights of the End Users of your application. You must provide legally adequate privacy notice and protection for End Users. If End Users provide you with user names, passwords, or other login information or personal information, you must make the End Users aware that the information will be available to your application and to Parse.
By using iubenda for your app this becomes as easy as choosing the Parse Analytics clause and adding it to your privacy policy. Let us help you with it.