The other day we've announced the integrations with some popular file hosters Inkfilepicker, Transloadit and Heroku. This is the integration announcement for a very similar set of services that perform backups of your data. In this category we've had VaultPress before and we are now adding Amazon's Glacier, Dropbox and Google Drive.
This means you can now easily browse the collection of services/clauses within iubenda and find these backup based services to your privacy policies.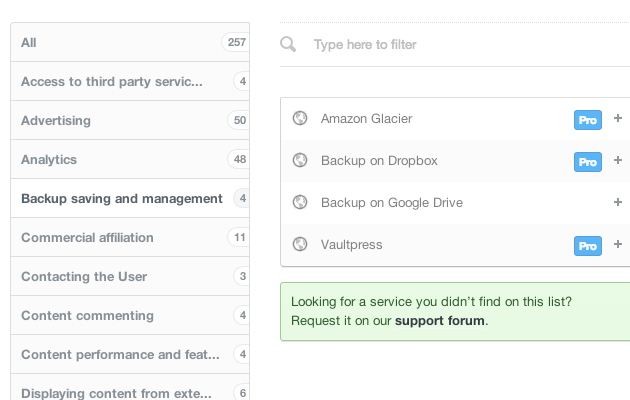 What is Amazon Glacier?
Amazon Glacier is an extremely low-cost storage service that provides secure and durable storage for data archiving and backup. In order to keep costs low, Amazon Glacier is optimized for data that is infrequently accessed and for which retrieval times of several hours are suitable.
Generate Privacy Policy for AWS Glacier
What is Dropbox?
Dropbox is a folder on your computer that additionally syncs all of that data with your Dropbox account on the web. Some people choose to use Dropbox as a backup or hosting service for data.
Generate Privacy Policy for Dropbox
What is Google Drive?
Similar to Dropbox, Google Drive can hold any local data or data from a website as a backup solution.
Generate Privacy Policy for Google Drive
Why include a privacy policy for Amazon Glacier, Dropbox and Google Drive?
File hosting and backup services host your data externally on their servers which also means that the personal data you've collected about your users or visitors is hosted elsewhere. Laws require that you make this known to your users via a privacy notice.
Sometimes companies even require you within their terms to use a privacy policy to make exactly that fact know.
By using iubenda for your app this becomes as easy as choosing the hosting clauses and adding it to your privacy policy. Let us help you with it.