A little while ago we've announced the integration of the image processing service Cloudinary into the privacy policy generator. Now I'd like to announce further integrations with Inkfilepicker, Transloadit and Heroku.
This means you can now easily browse the collection of services/clauses within iubenda and find these hosting based services to your privacy policies.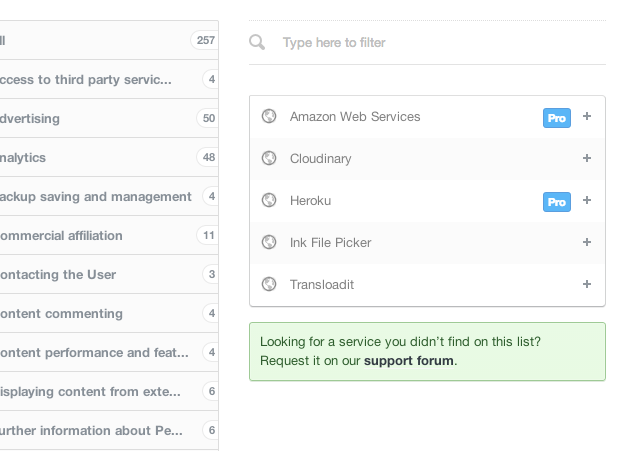 What is Filepicker.io?
Filepicker lets you "Connect, Store, and Process any file from anywhere on the Internet". It's a very simple way of taking care of your file hosting needs. Files are handled and moved to an Amazon S3 bucket, Rackspace cloud files, Azure blob storage, or Dropbox for you.
Generate Privacy Policy for Filepicker
What is Transloadit?
Transloadit handles file uploading & file processing for your websites and mobile apps. They'll process video, audio, images and documents. Basically they'll deal with progress bars, encoding tools and scaling machines for you.
Generate Privacy Policy for Transloadit
What is Heroku?
Heroku is a hosting service that deals with the infrastructure for you, letting you concentrate on building the actual app. Whoever builds websites is most, most likely very familiar with what Heroku does and helps you with.
Generate Privacy Policy for Heroku
Why include a privacy policy for Filepicker, Transloadit and Heroku?
File hosting and hosting services help you run an app and as such may get access to personal information about your users (both you and the hosting companies  may get access and store personal information). Laws require that you make this known to your users via a privacy notice.
Sometimes companies even require you within their terms to use a privacy policy to make exactly that fact know. Heroku is doing exactly that in their terms:
3.3 You agree that you will protect the privacy and legal rights of the End Users of your application. You must provide legally adequate privacy notice and protection for End Users. If End Users provide you with user names, passwords, or other login information or personal information, you must make the users aware that the information will be available to your application and to Heroku.
By using iubenda for your app this becomes as easy as choosing the hosting clauses and adding it to your privacy policy. Let us help you with it.