Se gestisci un sito web o una newsletter destinati ad un'audience di web designer, sviluppatori o startup, puoi accedere al nostro programma di affiliazione e guadagnare una commissione per ogni cliente che inizia ad utilizzare iubenda grazie al tuo referral.
Puoi partire dal semplice inserimento dei nostri link di referral sul tuo sito o nelle tue newsletter, fino ad arrivare all'integrazione completa di iubenda all'interno del tuo servizio mediante le nostre API.
In quest'articolo parleremo in particolare di come accedere ad un semplice programma di affiliazione basato sulla condivisione dei nostri link di referral con la tua utenza.
Per iniziare non dovrai far altro che seguire queste indicazioni:
Visita la tua dashboard iubenda per poi aprire la scheda Love and Rewards
I tuoi link di referral sono disponibili in automatico all'interno della scheda Love and Rewards e puoi subito iniziare a condividerli. Ricorda che per ogni servizio devi utilizzare il rispettivo link di affiliazione (un link è valido per il servizio di Cookie e Privacy Policy e uno per il servizio di costituzione SRL).
Monitora le conversioni visitando la pagina http://iubenda.referralcandy.com: inserisci il tuo indirizzo email (quello associato al tuo account iubenda) e clicca su "Track your rewards" in alto a destra
Guadagna fino a una commissione del 30% ad ogni referral
Generatore di Privacy Policy e Cookie Policy
Segnalando iubenda ai tuoi contatti, riceverai una commissione del 30% ad ogni primo acquisto effettuato a partire dal tuo link di referral.
Utilizzare il tuo link di referral sarà vantaggioso anche per i tuoi contatti in quanto riceveranno automaticamente uno sconto del 10% per il loro primo acquisto su iubenda.
Ad esempio in caso di acquisto di una licenza singola da €19/anno, il tuo contatto pagherà €17.10 invece del prezzo standard, mentre tu riceverai una commissione di circa €5.
Servizio di costituzione SRL online
Segnalando iubenda ai tuoi contatti, riceverai una commissione del 5% ad ogni acquisto effettuato a partire dal tuo link di referral.
Il corrispettivo di iubenda per il servizio di costituzione SRL è di € 499; riceverai quindi una commissione di € 24.95 per ogni acquisto del servizio di costituzione SRL online effettuato tramite il tuo link di referral.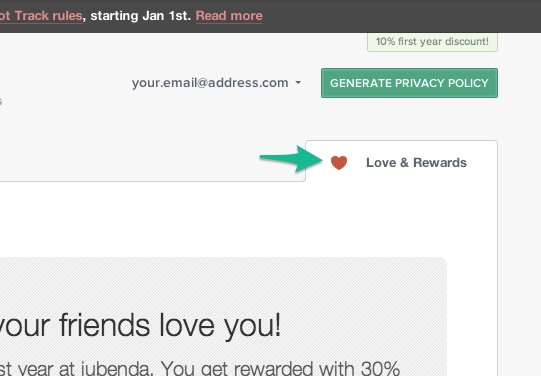 Visitando la pagina Love and Rewards troverai alcuni strumenti standard per la condivisione del tuo link di referral sui social network o via email, ma puoi sempre copiare il link e condividerlo dove preferisci, ad esempio incollandolo su una pagina del tuo blog.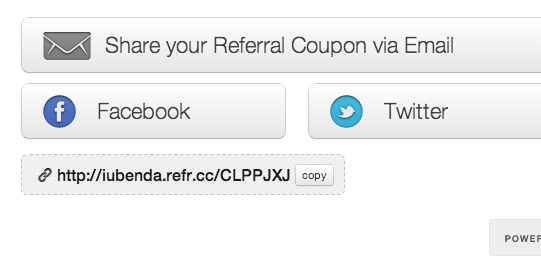 Risposte alle domande frequenti sul programma di affiliazione
In cosa consiste la ricompensa per un referral?
Ad ogni referral riceverai una commissione monetaria pari al 30% del primo acquisto per il Generatore di Privacy Policy e Cookie Policy del contatto a cui hai segnalato iubenda. Per l'acquisto del servizio di costituzione SRL online, invece, riceverai una commissione monetaria pari al 5%. In particolare, potrai scegliere di ricevere la commissione via PayPal o di donarla in beneficenza.
Quali acquisti danno diritto alla commissione?
Puoi maturare commissioni su ogni primo acquisto dei tuoi contatti (sono quindi esclusi i rinnovi). Non c'è alcun limite di spesa.
Quanti acquisti devo generare prima di poter ritirare le mie commissioni?
Hai diritto alla commissione ad ogni acquisto da parte dei tuoi contatti. Non è necessario cumulare più acquisti.
Dove trovo il mio link di referral?
Nella scheda Love and Rewards del tuo account iubenda.
Nota: visitando la pagina Love and Rewards, entrerai automaticamente nel programma di affiliazione gestito da Referral Candy, da cui riceverai notifiche via email relative allo stato dei tuoi referral.
Dove trovo informazioni sui miei referral?
Puoi monitorare i tuoi referral visitando la pagina http://iubenda.referralcandy.com: inserisci il tuo indirizzo email (quello associato al tuo account iubenda) e clicca su "Track your rewards" in alto a destra.
Come vengono pagate le commissioni?
Le commissioni monetarie (via PayPal o donazioni) per i referral andati a buon fine vengono pagate direttamente da Referral Candy:
Una volta che avrai generato gli acquisti sufficienti a sbloccare la tua commissione (questa condizione si soddisfa molto rapidamente in quanto basta anche un solo referral andato a buon fine per avere diritto alla commissione)
Solo dopo che Referral Candy avrà fatturato le commissioni stesse a iubenda
Dopo aver comunicato a Referral Candy il tuo indirizzo email PayPal
Ulteriori informazioni
Per ulteriori informazioni sul programma di affiliazione, consulta la documentazione di Referral Candy (in inglese).