Update: We have started to post articles in German on pages on the blog, feel free to jump right into it:
Today we are launching our German privacy policy text to the public.
We've been testing it internally for a good while and are happy to release it for you to use.
The German version will be handy for everyone who wishes to add an additional German policy to their website or whose websites just target German speaking people in general (the so-called DACH region has 95 to 100 million people living inside).
Legal grounds
Update May 2018: in the meantime the legal sourcec for privacy policies is called GDPR and we have dedicated an entire landing page to it.
Privacy law in Europe has its legal framework in European privacy directives and state law. The Data Protection Directive and the ePrivacy Directive are the European minimum standards that have to be implemented into member state law.
In Germany these privacy laws can be found in the BDSG and – more specifically – in the online arena in the TMG (as well as in Federal State law).
Legally speaking almost anyone must post a privacy policy or "Datenschutzerklärung". The trigger event for this requirement is the collection of personal data or "personenbezogene Daten". Personal data constitutes anything that can be linked back to you, arguably also IP-addresses.
Austria: Privacy policie requirements are based on the TKG (Telekommunikationsgesetz) and the DSG (Datenschutzgesetz). Owners of commercial websites should therefore inform their users of the personal data collected, processed and shared, what the legal basis is, what the personal data is used for as well as for how long the data is going to be saved (§ 96 TKG).
Switzerland: The collection of personal data is an act that is dealt with by the DSG (Datenschutzgesetz) in Switzerland. According to the Federal Data Protection and Information Commissioner the collection of personal data is to be made known via a "Datenschutzerklärung" or privacy policy. The users are to be informed, which data is collected and who it is shared with (stated in context of Google Analytics).
How Do I Make a German Privacy Policy?
Around the site you'll find a couple of (green) buttons indicating that you can generate a new privacy policy. Clicking that you will find this blue button with a dropdown menu from which you may choose your language.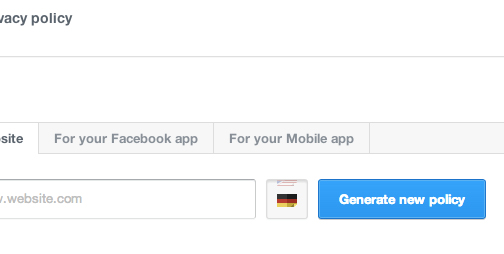 Choose your privacy policy language right there to start the generation in the correct language. In addition to English and Italian we now offer that German policy you've been waiting for for so long.
If you want to add another language to an existing site/policy read on below.
How Do I Add an Additional Privacy Policy to the Site?
If you already have an English or Italian policy running on the site, but you would like to add a second language you may do so from the user  dashboard.
When you've logged into your dashboard and have chosen the site you'd like to add a second policy to, you may do so in the sidebar on the right: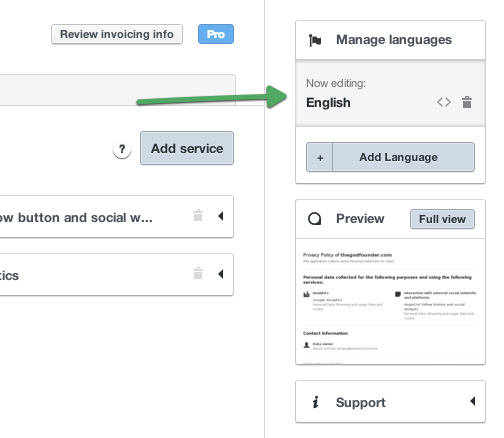 Along with the document preview you have the language management widget right there at your service.
We hope you will enjoy our localization efforts. if German is not the language you were waiting for, then stay tuned because we have a whole bunch of regions on our roadmap.
---
Heute lancieren wir unseren privacy policy-Text in Deutsch, dementsprechend also als "Datenschutzerklärung".
Nach internen Tests sind die Texte zum Datenschutz nun erfreulicherweise auch endlich für iubenda Nutzer erhältlich.
Die deutsche Version ist für alle iubenda Nutzer von Belang, die ihrem bestehenden Projekt (Website, mobile App, Facebook App) entweder eine zweite Sprache hinzufügen wollen, oder aber falls eine Seite als Hauptsprache Deutsch hat.
Die gesetzlichen Grundlagen
Update Mai 2018: mittlerweile ist die Grundlage für Datenschutzerklärungen in der DSGVO zu finden, dazu gibt es auf der iubenda Seite weitere Informationen.
Deutschland: Datenschutzvoraussetzungen für das Web kommen in Deutschland hauptsächlich aus dem BDSG (und Bundeslandgesetzgebung) und dem spezifischeren Telemediengesetz (TMG). Diese sind unter anderem an die Europäischen Richtlinien angepasst wie die Data Protection Directive und die neuere ePrivacy Directive (diese haben auch für Österreich und in geringerem Masse die Schweiz Auswirkungen).
Gesetzlich gesehen ist es praktisch für alle Personen die eine Webseite betreiben (dank oder wegen der sehr breiten Auslegungen der Definitionen) notwendig eine Datenschutzerklärung auf der Webseite einzubinden. Dies ist ein Ausfluss aus dem Recht des Einzelnen zu Erfahren, dass seine personenbezogenen Daten erhoben werden und zu welchem Zweck dies geschieht (und dann im Einzelfall auch die Einsicht zur Möglichkeit zum Widerspruch).
Auch personenbezogene Daten werden sehr breit ausgelegt und es dürfte dabei auch die Erfassung der IP von erfasst sein. Ein gutes Beispiel ist immer die Nutzung von einem Service wie Google Analytics, die die Anzeige dieses Faktes auslöst und auf viele Webseitenbetreiber bereits zutrifft.
Österreich: Datenschutzerklärungen sind nach dem Telekommunikationsgesetz (TKG) und dem Datenschutzgesetz (DSG) erforderlich. Betreiber von kommerziellen Webseiten haben die Benutzer darüber zu informieren, welche personenbezogenen Daten sie ermitteln, verarbeiten und übermitteln, auf welcher Rechtsgrundlage und für welche Zwecke dies erfolgt und für wie lange die Daten gespeichert werden. (§ 96 TKG)
Schweiz: Auf die Erhebung von personenbezogenen Daten ist in der Schweiz das Bundesgesetz über den Datenschutz (DSG) anwendbar. Gemäss der schweizerischen Datenschutzbehörde sind die Nutzer in einer Datenschutzerklärung darauf hinzuweisen, welche Daten über sie gesammelt und an wen sie weitergegeben werden (im Zusammenhang mit Analysediensten wie Google Analytics).
Wie erstelle ich eine Datenschutzerklärung
Auf der Seite sind ein paar (grüne) Verlinkungen zu finden ("generate privacy policy"). Folgt man diesen, so findet man einen blauen Button mit einem Dropdown Menü in welchem man die Auswahl "German" als Flagge vorfindet.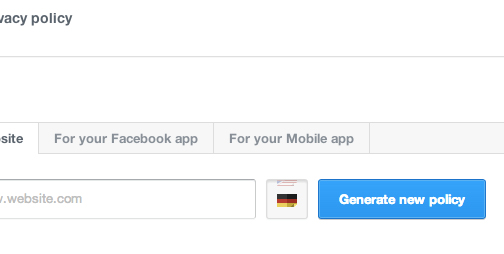 An dieser Stelle kann dementsprechend direkt der deutsche Text generiert werden. Hiermit ist also Deutsch die Dritte Sprache in der iubenda Datenschutzerklärungen generiert.
Im Falle, dass man einer bestehenden Privacy Policy eine deutsche Datenschutzerklärung zufügen möchte, gehe man wie folgt vor:
Wie füge ich eine zweite Datenschutzerklärung einer bestehenden bei?
Falls bereits eine Englische oder Italienische privacy policy besteht, kann dieser im eingeloggten Bereich eine zweite (oder Dritte) Sprache hinzugefügt werden.
Im Kontrollzentrum/iubenda Profil muss dafür erst die Seite mit der Datenschutzerklärung ausgewählt werden und dann können in der rechten Seitenhälfte die Modifikationen vorgenommen werden: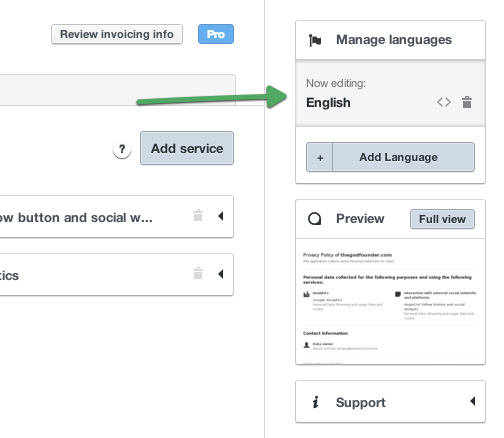 Auf der rechten Seite sind neben der Textvorschau auch die Spracheneinstellungen vorzufinden.
Wir hoffen, dass iubenda auch in Deutsch so viel Freude bereitet wie die bereits 60'000 in anderen Sprachen generierten Datenschutzerklärungen. Bei Fragen sind wir jederzeit über unser Forum oder die Email im Footer-Bereich zu erreichen. Sollte Deutsch nicht die einzige gewünschte Sprache sein, dann kommt möglicherweise mit Französisch, Spanisch und Portugiesisch bald Abhilfe!