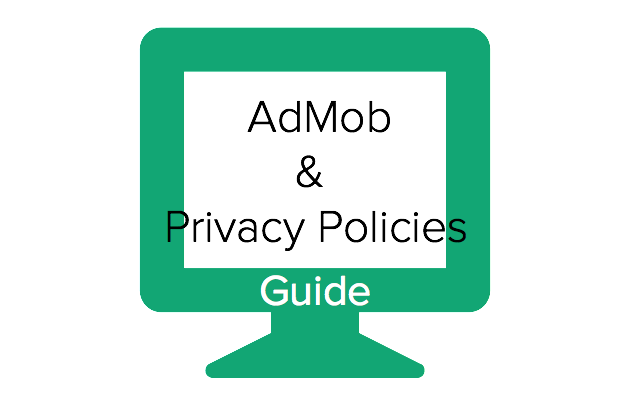 This post mainly answers the question how and why you have to include a privacy policy in your app for Google's AdMob.
Let's assume you have that one app, you run a Google AdMob within and you are thinking about including a privacy policy. What do you have to do?
1) Do I have to include a privacy policy when I use Google AdMob?
There are two sides to this question from a legal perspective. But actually only one answer: YES.
There is the legal side of it: Depending on where you are you may fall under European, American (Californian) or Australian privacy laws. The list could go on since most countries have some sort of privacy regulations that extend onto the web and mobile apps – and hefty penalties for non-compliance.
For advertisement services in general: advertisement services collect some sort of personally identifiable information as a rule of thumb to make sure they are able track the effectivity of their ads or to increase their reach and impact, which is why you have to disclose this fact to people via something like a privacy policy: More information about the legal framework can be found here.
There is the company policy side to it as well: Does Google require me in their terms to have a privacy policy when I use their service? See the answer in the next paragraph (2).
2) Am I required by Google to post a privacy policy for AdMob?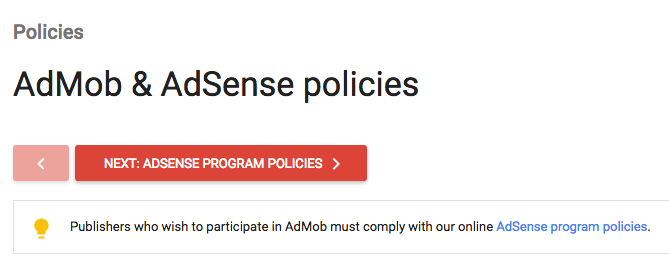 As an AdMob user you are required to follow the AdMob and AdSense policies. While this page itself isn't very helpful in determining the privacy policy requirements, the AdSense program policies will help, and the Interest-based advertising policies will also add some requirements.
3) How do I add a privacy policy for AdMob?
Usually, to make a privacy policy legally effective and compliant, it has to be easily found. A best practice is to link to your privacy policy from your footer where your users or visitors can find it at any given time. It should also not be modified to look like you want to hide it (smaller type, light colors that make it literally indistinguishable from the background). Since we are in the mobile ecosystem this looks a little different, but the reasoning is similar. Make it easy to find and read and abide by it.
4) An example privacy policy for Google AdMob?
A lot of people ask for sample privacy policies for their apps & Google AdMob. In reality those samples don't do anyone much good because they're far too generic. Let's start with an enumeration of what needs to go into a privacy policy. 
Most countries' privacy laws require you to include the following information:
What kind of personal data is collected;
Describe how this information will be used by the company;
Describe how this information will be transferred to third party companies;
Provide instructions on how users can modify or delete their personal information;
Provide instructions on how users can opt-out of future communications;
Identify its effective date and outline how you notify people of material changes to your privacy policy;
More information by Google taken from the AdSense policies:
Cookies:
"AdSense publishers must have and abide by a privacy policy that discloses that third parties may be placing and reading cookies on your users' browsers, or using web beacons to collect information as a result of ad serving on your website."
Privacy Policy:
"You must disclose clearly any data collection, sharing and usage that takes place on any site, app or other property as a consequence of your use of any Google advertising service. To comply with this disclosure obligation with respect to Google's use of data, you have the option to display a prominent link to How Google uses data when you use our partners' sites or apps."
Children's Online Privacy Protection Act (COPPA):
"If you implement any Google advertising service on a site or section of a site that is covered by the Children's Online Privacy Protection Act (COPPA), (a) you must notify Google of those sites or sections of sites covered by COPPA using the tools found here: https://www.google.com/webmasters/tools/coppa, or the method for apps described here: https://developers.google.com/admob/android/targeting, and (b) you must not use interest-based advertising (including remarketing) to target: (i) past or current activity by users known by you to be under the age of 13 years or (ii) past or current activity on sites directed at users under the age of 13 years."
"Google may use the device ID from where the ad is serving to generate interest and demographic categories (for example, 'sports enthusiasts' or 'inferred age: 18-34'). These interest and demographic categories will be used to serve ads better targeted to the user. Additionally, your app's privacy policy may need to be updated to reflect the use of interest-based advertising served via the Admob SDK. Please take a moment to review your app's privacy policies and ensure that they are up-to-date. Because publisher sites and laws vary across countries, we're unable to suggest specific privacy policy language."
Ideally you would tell the users what the service does in general and how you are using it.
What do you do now? You can either hire a lawyer, write your own policy or use iubenda's generator right away to make your policy. The AdMob clause is a PRO service that you can easily access with a premium account. The Google Analytics clause falls under our free limits.
Our Approach of Generating a Google AdMob Privacy Policy
So here's where iubenda's privacy policy generator will come in very handy:
Define the services and categories of data collection your app is making use of.
Add the services (and categories of data collection like "have a contact form") you are using to your policy. iubenda now takes care of your policy and generates it for you.
You can either link to your policy or embed the text into your app.