Generating a privacy policy is now simpler than ever!
Starting from today, each service in the "Add a service" section comes with a dedicated help text.
There are now 332 pre-written privacy policy services and we are still adding new services weekly. Whenever you hover over a service, we will highlight the most important facts to consider, so to help you make the right choice and create your privacy policy more easily and precisely than before. Whether you start a new policy altogether or you periodically need to update your existing ones, this change will help you save even more time.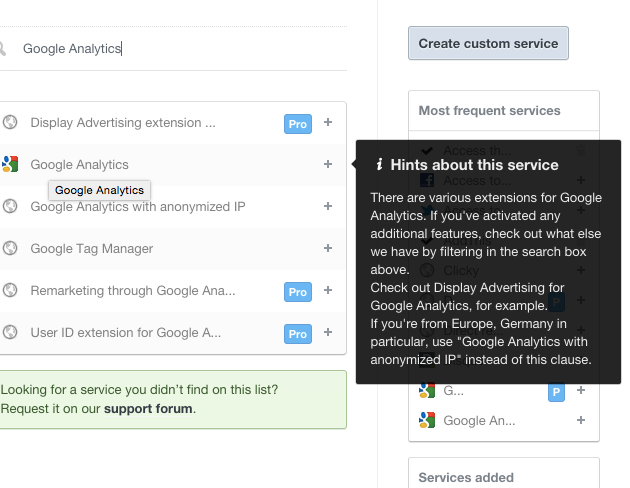 You can test this interface change right in your dashboard. 
New service integrations added recently
We've added new services to cover activity data tracking and a HealthKit, in order to answer to changes made necessary by iOS8. Find the recent additions filed by their service's purpose:
Analytics
LeadLander
Salesforce Analytics Cloud
Keen.io
Displaying content from external platforms
Handling activity data
Apple Healthkit
Device Activity Data
Handling Payments
Hosting and backend infrastructure
Vuforia
Scoreoid
Layer
App Engine
Parse Core & Push
DigitalOcean
Infrastructure monitoring services
Managing support and contact requests
Managing email addresses and sending messages
Hubspot Email
Marketo Email Marketing
MagNews
Registration and authentication services
Twitter Digits
Xing OAuth
WordPress Single Sign on
 Stripe OAuth
User database management
Hubspot Lead Management
Hubspot CRM
Marketo Lead Generation
Pipedrive
LeadOutcome
Infusionsoft
Pardot
Salesforce Marketing Cloud
Appboy
If you need any other services, please request them on GetSatisfaction.
Popular articles on the blog
The most popular topic on the blog lately is iOS8 and the changes that were introduced along with it: stronger privacy rules, HealthKit and more. Here are some posts that you may have missed or that reflect the recent changes for iOS: