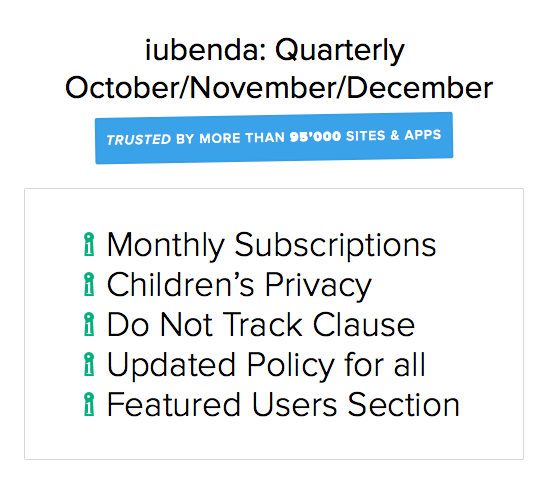 Product Launches & Additions
1) Big update now being pushed out to all:
We've had a big update to our policy texts in July which we chose only to apply to new sign ups. All of these updates are now being pushed out to everyone which means YOU have a shiny new privacy policy.
There have been more changes under the hood and we've added new third party services very diligently recently:
+ Adcash, + AdEspresso, + Adform, + Adobe Analytics, + AdWords Conversion Tracking, + Alexa Metrics, + Apsalar, + AskingPoint, + AudienceRate, + Balanced, + comScore Analytics, + Customer.io, + Facebook Ads conversion tracking, + Google Wallet, + Grapeshot, + Heap, + IDGTechNetwork, + Improvely, + LiveIntent, + Pingdom, + Polldaddy Widget, + Powerlinks, + StatCounter, + Trak.io, + Wirecard, + Youtube video and Google maps embedding.
Now there is a new option to switch to a monthly subscription that will add more licenses to your account starting at 5 licenses for 9$ per month. Therefore the pricing possibilities look like this now:
Free basic policy with some restrictions
Paid policy that unlocks all of the otherwise restricted options for 27$/year
Monthly subscription that starts at 5 licenses with 9$/month
Find the pricing page here.
3) New pages:
We have added a "showcase" section to the site, that links to some of the most interesting iubenda users out there.
We have added a "guides & documentation" page that helps our users getting started or learning a bit about the whole privacy set up
Legal Changes
Sites of the Quarter
Since we have added a "showcase for great iubenda use cases" it's now easier than ever to explore and see how other people are using the product.
One of my personal favorites is Slush, the Northern European startup event taking place in Helsinki. Another super lovely product playing with our policies is Exposure, an app to create online photo narratives.
Plans for the Future
There are still many things we want to build for you besides making all of our tools better every single day. To give you an idea of what to expect next:
We are going to test a terms of service tool very soon (some of you may already be seeing a feedback form)
We plan to release more languages (Portuguese is in the pole position right now)
Popular Articles on the Blog
Our most popular articles on the blog within the last 3 months:
Many of the blog posts have become either "guides" to a specific third party or an overview of a specific situation for example in Canada. These articles can be also found on the "guides & documentation" page added to the main site.
Privacy Policy Customizations
We have been doing more and more customizations for companies and apps that need a more thorough legal coverage (and that in various countries). With our resources we are able and happy to take customization requests if your company needs help going further than what our generator helps you to do. Currently we are offering this service for privacy policies and terms of service, which is our strongest suit. If you have questions or suggestions regarding this service, we are happy to take them at info@iubenda.com anytime.