Whenever we were confronted with the PRISM leaks we instantly knew that we wanted to do something that would touch upon the scandal. We knew people were angry about the fact that they were spied on without a legal basis and without their knowledge.
We went ahead and built a small campaign site called Orwell Test where we've extracted the main behavior patterns that in our minds were "evil" about the whole Prism disaster:
data collection/privacy
no knowledge
illegal behaviour
and tried to convey the message in a simple yes/no fashion:
website/app owners who collect personal data and don't disclose that fact on their web or mobile property are doing the same thing as the US government; They collect personal data to their advantage, their customers/users don't know about it and worst of all, they would actually mostly be under a legal obligation to inform about data collection practices via a privacy notice.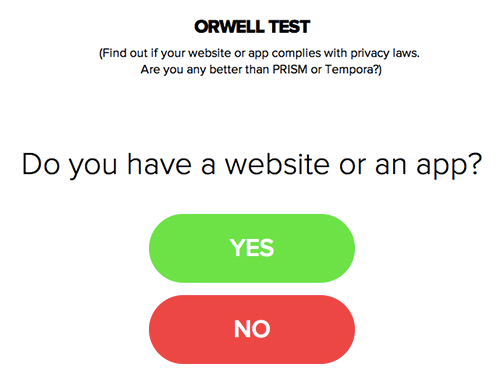 Depending on what choices the users made we gave a pair of possible ending points: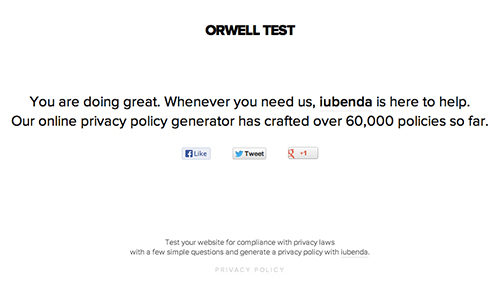 a) we congratulated people who did well with "well done, we are here if you need us" and we b) told others that it was time to think about a privacy policy in which case we were there to ease the pain momentarily:
"Wouldn't you like an easy way out"?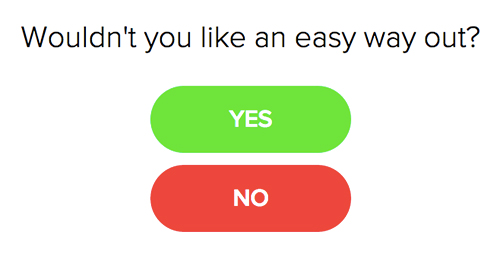 We then used that funnel to the last page to tell people why we were special and worth considering.
We've added a few social buttons without asking for shares. When the time was right we were going to spread exclusively in a few very targeted audiences and just see how it would perform. The results exceeded our expectations for its performance by far.
You can take a look at Orwell Test here. Do you comply with your local regulations?