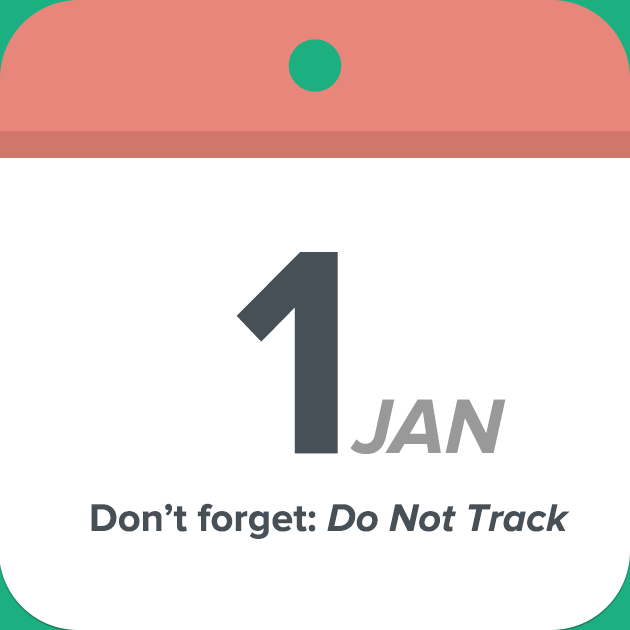 We've written about the "Do Not Track" additions to the CalOPPA and what they mean before here, this post is effectively a reminder not to forget about the new requirements set forth by California's legislation starting today:
How to comply with CalOPPA from the 1st of January 2014 – in a nutshell?
The new Do Not Track part now requires operators of commercial websites or online services (that includes apps) that collect personally identifiable information about consumers residing in California to disclose how they handle Do Not Track signals in their privacy policies.
(Caveat: This will potentially have an impact on your site as well, if your users are Californian residents)
This new California law does not require companies to apply a response to do not track signals, it only requires them to disclose what the response is, and what that response looks like if they are in fact honoring the DNT. You'll find some quick fixes and insights in this post detailing the changes. Here's the nutshell:

If you don't react to the DNT signals, then state that fact in your policy
If you do honor those requests, then you need to outline in more detail what exactly that means and how it affects users

The interesting part in CalOPPA's privacy policy implementation is the enforcement part. It's enforced via California's unfair competition law that prohibits unfair business practices with penalties up to $2,500 per violation (for apps this may well be measured in app downloads, mind you, as showcased in the Delta app case). Now the curious part is, deficiencies may be corrected within 30 days before the AG of California can take further action.
Nonetheless taking action today to be in line with the CalOPPA is a prudent move.  If you want to read the actual relevant part of the Business and Professions Code just access the new CalOPPA right here.
If you are not familiar with iubenda and our privacy policy generator yet, we operate it with an international approach and include the most stringent regulations such as the Do Not Track or COPPA (children's privacy) as well as European rules to make sure you're good to go, close to everywhere. We also host the privacy policy for you, translate into various languages and make it look great out of the box.
Create a privacy policy with a Do Not Track Clause Now