It's a good time to think about EU cookie banner management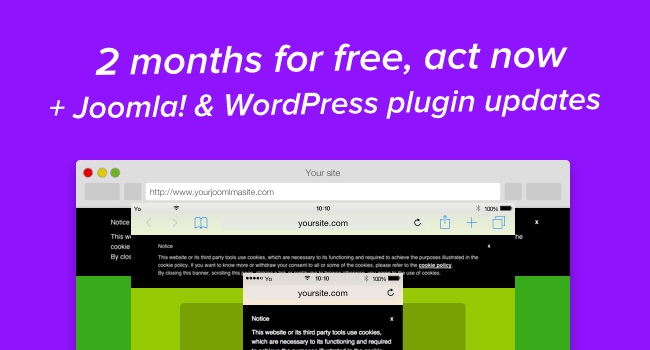 Here are two smaller announcements related to our recent release of the final version of the iubenda Cookie Solution and pricing:
1 day left to lock in two months for free

(update: the offer has expired)

We've sent out an email today to all users that fit a tier for the Cookie Solution above 25'000 page views. These tiers are the first paid versions for our Cookie Solution.

If you are using the Cookie Solution right now, you can lock in two months of free usage if you opt for one of our paid plans by March 31st.

Log into your account and unlock those valuable two months! →
WordPress and Joomla plugin updates
Today we've udpated the Cookie Solution plugins both for WordPress and Joomla!. These plugins, if you're not using them yet, help greatly with implementing the iubenda Cookie Solution on either of these systems.
Details:
Joomla! (v 1.1.3, bug fixes related to the parsing engine). You can find information about the Joomla! plugin here →
WordPress (v 1.11.1 now on the WP repo, it merges the 1.11.1-beta1 which had been successfully tested). You can find information about the WordPress plugin here →