Cookie Solution: final version
After 10 months of development, currently executed on billions of page views per month, the iubenda Cookie Solution is finally out of beta!

Starting today, the Cookie Solution comes in two versions:
Light Cookie Solution
FREE!
This version doesn't include prior consent, which means that it won't block the scripts that may install cookies before consent has been provided by the visitor. It's ideal for all our users that, after checking the requirements in their own country, have decided to implement the cookie solution through the "implied" consent approach instead of the stricter "prior" consent approach. Important: we strongly advise you to use the Full Cookie Solution below if you're based in the EU or want to comply with the EU Cookie Law.
Full Cookie Solution
FREE on all sites generating fewer than 25.000 page views per month
This is the version you've all been using up until now. It includes script blocking and re-activation of these very scripts once consent has been obtained and it's a perfect fit if you're based in the EU or want to comply with the EU Cookie Law and its requirements and implementations.
Some recent news about the Cookie Solution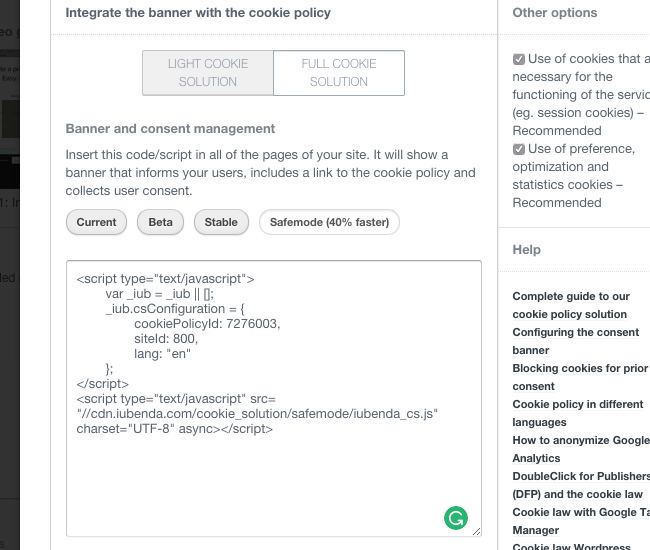 We just released a feature on our Beta channel: bots and spiders like GoogleBot are now filtered by our Cookie Solution, which will assume consent when any of them visits your site and therefore allowing them to see the site in its normal, untampered state
New Beta / Current / Stable release channels available. This way you can choose the release cycle for your Cookie Solution. Read more about our release channels →
Safemode has arrived (which is 40% faster). Read more about its features and how to activate it →
Cookie Solution: the pricing is now available!

First and foremost, we listened to your feedback! This is why only large sites will be charged for the Cookie Solution, those that – judging from their traffic – benefit from our solution most and have a reach that justifies a sustainable fee.
In short
You don't need prior consent and want to use our newly released Light Cookie Solution?
It's FREE, regardless of the traffic generated by your site (words of caution: we advise against this option for EU Cookie Law compliance)
You want to continue using the Full Cookie Solution?
It's free to use on all sites that don't have more than 25.000 page views/month
Prices start from $9/month for sites that fit in any of the categories above the free tier
Choose your Cookie Solution plan →
and stop worrying about cookies!
Cookie Solution: now with a detailed analytics dashboard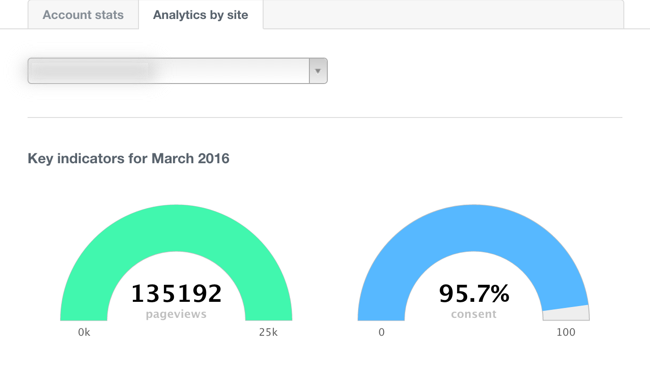 Today we're also releasing a new and sophisticated analytics dashboard for the Cookie Solution. The dashboard has two sections:
A general section where you can monitor the Cookie Solution usage for your entire account and across each of your policies
Only available to larger plans of the Full Cookie Solution: a detailed analytics dashboard that covers information site by site and where you can monitor the amount and percentage of new consents, consents over total page views, how consent has been provided (scroll, explicit consent etc.) and much more. The dashboard is very detailed and it's definitely a must if you are a publisher and want to optimize the interaction between cookie consent and ad performance
Read more on our Cookie Solution Analytics ›
Cookie Solution: on which of my sites can I use the free version?

In the "Cookie Solution Analytics" section you'll also find a report that will help you understand quickly how the pricing affects your various sites.
If you want to find out which of your sites need the paid version, and which respect the limits of the free plan, consult these statistics now.
Consult the account statistics & find the plan suitable for you →
Pricing page redesigned

We've completely redesigned our pricing page to help explaining the pricing of our services. We've also changed the names of some of the plans in order to make them easier to understand. Here's our new pricing overview:
Privacy & Cookie Policy Generator
Basic License
Free – The Basic License comes with some limitations, it can't be used for mobile apps and doesn't support cookie policies
Pro License
The Pro License comes with all our features and can be purchased in two ways:
Pay Per License ($27/year per site/app and per language), which allows you to purchase each Pro License one by one
Multi-license (starting from $9/month or $99/year for 5 Pro Licenses), which allows you to purchase bundles of Pro Licenses at volume discounts
Cookie Solution
Light Cookie Solution
Free – Comes with our basic features and doesn't support prior consent (not advisable for most implementations of the EU Cookie Law).
Full Cookie Solution
Free on sites with up to 25,000 page views per month, starts from $9/month beyond that threshold – Comes with all our features and supports prior consent (ideal for the EU). Some features, like the Cookie Solution Analytics or our Web Server module are reserved to larger plans.
Billing refactored: pay via credit card (finally!)

We've listened to the many requests. YES! PayPal is not our only payment option anymore and you can now use your own credit card to checkout!
There's more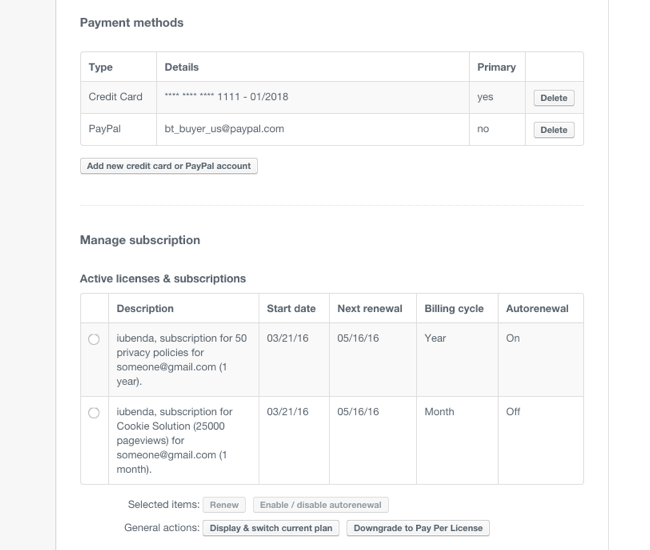 Save ~8% by choosing yearly billing
All our plans with the only exceptions of Pay Per License can now be purchased both on a yearly and monthly billing cycle. But there's more! If you choose yearly billing, one month every year comes for free, equal to a ~8% discount. Visit our newly redesigned Billing section, hit on "Change plan", select "Yearly" and follow the checkout steps.
PayPal direct integration
You'll now have to visit PayPal only the first time you authorize an account. After the authorization is granted, you won't have to checkout via PayPal each time you purchase a license or plan!
All new billing history and billing management dashboard
We redesigned the Billing history and management page so that it allows you to:
Monitor and change your current plan and billing status
List all your active licenses and subscriptions
List and add new payment methods, as well as remove them
Manually renew licenses and plans, as well as disable automatic renewal
Check out the new Billing section ›
---
Don't wait!
CHOOSE YOUR COOKIE SOLUTION PLAN →
and stop worrying about cookies!