Promoting iubenda can turn into a business for some people with the right audience: do you run a site or newsletter that targets web designers, web developers or startup people in general? Then you might start making money for every customer you refer to us.
There are various stages of affiliate collaboration, starting from simple placing of links in the most convenient spots up to a fully fledged API based integration that will make iubenda part of your service.
The following will explain our simple, link-based affiliate integration.
Setting up is fast and convenient:
After signing up, go to the Love and Rewards section in your dashboard. There you will find the referral link. You can monitor your affiliation stats anytime by visiting http://iubenda.referralcandy.com and inserting your email (the one you use on iubenda) and clicking on "Track your rewards" (top right corner).
Earn a 30% commission for every referral
By referring users and customers to iubenda, you earn 30% of the price they pay for the first year. In addition, the person whom you refer receives 10% off their first purchase. So for example, instead of the standard $27 for the first year, they will pay $24.30 and you will receive about $7 of that purchase.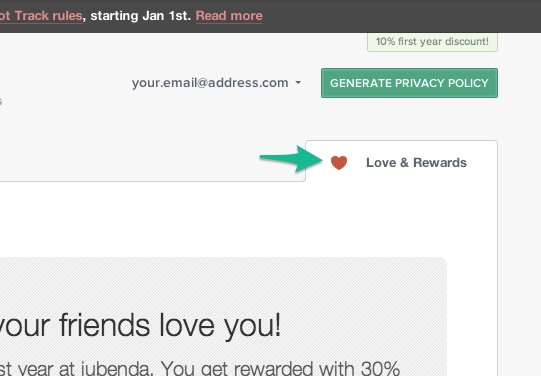 On your Love & Rewards page you will find the standard ways for sharing your link but you can always simply copy paste the link and share it as suits you best.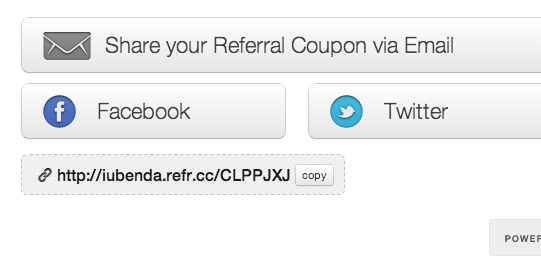 Here are some quick facts on the referral system:
What is the referral reward?
It's a cash reward that gives the user 30% of the referred friend's purchase. The user can receive the reward through PayPal, donate it to a charity of their choice, or send the cash (via PayPal) to the person he/she referred.
What purchases count toward a reward?
The first purchase made by the person whom you referred (the person must be actually referred and can't be an existing user). Those purchases have no minimum price criteria.
How many referred purchases does it take to be able to clame the reward?
It's immediate, in other words each time a user brings in one referred purchase.
Where can I get that referral link again?
Here.
P.S. please note that by visiting that tab you'll automatically enroll with Referral Candy who handles the referrals and sends email reminders regarding your personal campaign.
Where can I find information about my referrals?
You can find your referral stats here: http://iubenda.referralcandy.com. Insert your email (the one you use on iubenda) and click on "Track your rewards" (top right corner).
How are the referral bonuses paid out?
Referral rewards are delivered once the following conditions are met:
1. You make a referral;
2. iubenda has been charged for the cost of the cash rewards
3.You have let ReferralCandy know your PayPal email address.