We've just made our referral system much more valuable to our existing users. By referring future users and customers to iubenda, you can now earn 30% of the price they pay. This includes their next purchase, but it also includes purchases they make in the future.
To offer a better incentive to your friends, you can brush off 10% of our usual price.
Instead of the standard $27 for the first year, they will pay $24.30. You will get over $7 for that purchase.
It's also very simple. You'll find a link in your dashboard's "Love and Rewards" tab. Share it and profit.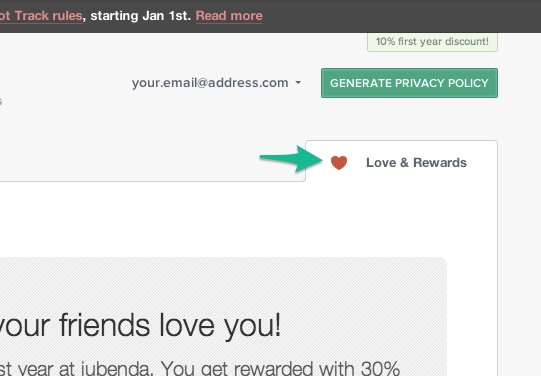 By visiting your sharing page you will find a couple of pre-crafted sharing possibilities. Instead of these options you can also simply copy paste the provided link and share it with whoever you like.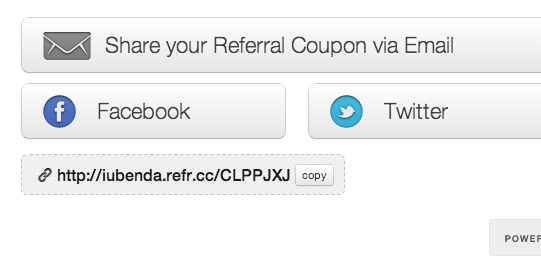 Here are some facts about the referral system:
What is the referral reward?
It's a cash reward that gives the user 30% of the friend's referred purchase. The user can receive the reward through PayPal, donate it to a charity of their choice, or send cash (via PayPal) to the person he/she referred.
What purchases count toward a reward?
A friend's first purchase and all of that friend's subsequent purchases. Those purchases have no minimum price attached to it.
How many referred purchases does it take to get a reward?
Each time a user brings in one referred purchase. No cumulation necessary.
Where can I get that referral link again?
Here.
P.S. please note that by visiting that tab you'll automatically enroll with Referral Candy, who handles the referrals and sends email reminders about your personal campaign.