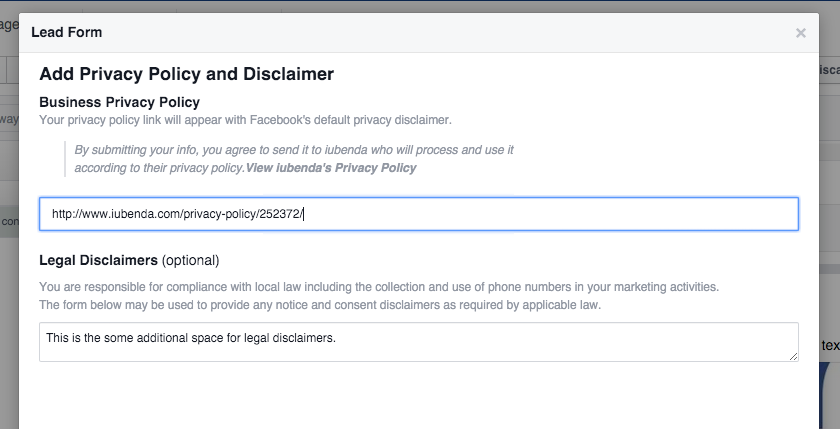 Reading below, you will learn what some of the involved complications are when it comes to data protection and the privacy policy.
Facebook Lead ads allows you to reach potential customers because they can easily sign up for what you're offering, and you'll get accurate contact info to follow up with them through Facebook.
By clicking your lead ad, customers will see a form that's already filled with info that they've shared with Facebook – such as their name, number or email address.
The form is mobile-device friendly and designed for the least amount of typing possible. So it's quicker for customers to reach you – and gives you accurate, actionable info so that you can contact them.
So far so good. This also means that these potential customers share their personal data with you and that has resulted in Facebook requiring privacy policy links from all of their Facebook Lead ads users. 

Facebook tells you in their terms that govern the use of Lead Ads to, "(ii) a clear and prominent disclosure that if a user submits data to you through a Lead Ad, such data will be governed by your privacy policy; and (iii) a link to your privacy policy. You will further ensure that no Lead Ads will be targeted to any minors."
Iubenda helps a great deal with this. By signing up and telling us what the data is exactly that your site collects, your privacy policy comes out generated on the other side. Then the privacy policy can be embedded onto your site or you can just use the direct link provided as well.
Generate a privacy policy for your Facebook Lead ads now
How to add a privacy policy for Facebook Lead Ads?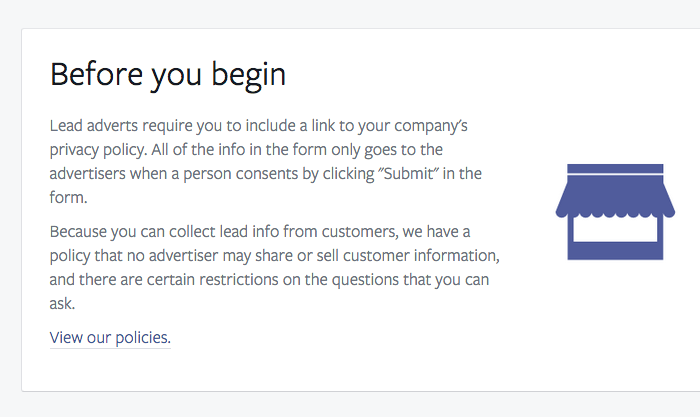 This is the process in a nutshell. To create lead ads create a new campaign with the option Lead Generation. 
Under Lead Generation click Create New Form.
When you're finished adding questions (3 is the maximum), click Next.
Add a link to your privacy policy and any additional disclaimers you may have, then click Add Destination.
It's important to add additional disclaimers here if your applicable law requests it. This form can be used as notice and consent disclaimers.
Additional guidelines for EU residents and marketers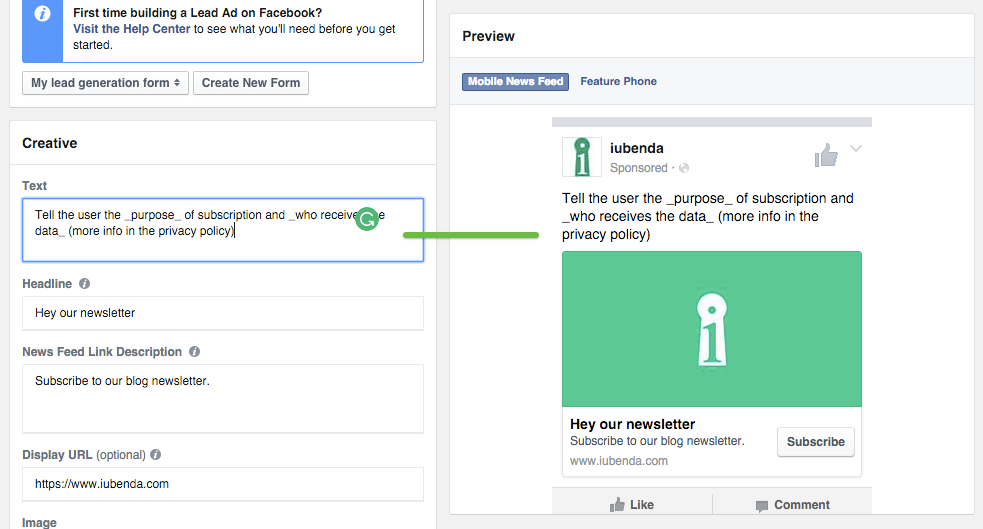 What changes if I am based in the EU?
If you're a European advertiser or marketer, your situation will be different from the US in the way that you may want/need to get proper consent by your future leads. Therefore we're pointing out some very general statements below:
Based on various requirements, but most notably on Article 6(3) of the e-Privacy Directive, you'll find that European marketers need to make sure to get prior consent of the subscriber or user concerned, laying down an obligation to provide information and obtain prior consent before processing traffic data for the purposes of marketing electronic communication services or value added services.
You also need to follow a principle of proportionality (Article 6(1)) from which follows that you're only allowed to use the data for the purposes outlined to and consented by the user in the first place.
A good practice for displaying consent by users is a checkbox (that can't be skipped and isn't pre-checked) and the subsequent email that has the users confirm that it's indeed them that wanted to sign up. 
Elements to add to the Facebook Lead ad
What you will also need is:
that the user understands who he is giving his consent to
that their content is specific, meaning that they understand the purposes for their consent.
Therefore, follow this list below (and please understand that the idea of consent and the way to seek it is not exactly the same in each country. However this should be a good framework to get you started reliably).
Lead Ad process and checklist
Under Lead Generation click Create New Form.
When you're finished adding questions (3 is the maximum), click Next.
Add a link to your privacy policy and any additional disclaimers you may have, then click Add Destination.
It's important to add additional disclaimers here if your applicable law requests it. This form can be used as notice and consent disclaimers.
Remember to tell people the exact purpose of why you want their data (for example email address, for your newsletter, or you are giving away an infographic, or potentially both). This way they know what they are to expect. You will use the lead ad's text field to outline what the purpose is of your lead ad.
Don't use the data for any other purpose than the one outlined by you on the lead ad form and potentially detailed in your privacy policy. 
Make sure that your users can object and unsubscribe from your usage of their data later on (and provide that information in your privacy policy)
Since Facebook doesn't have the option of an un-checked box, a so-called double-opt-in could make your consent more meaningful. This means: whoever signs up to your Facebook Lead ad, receives an email from you with a link to your privacy policy and a confirmation link that adds them to your lead list.
If you need help with the generation of a privacy policy, iubenda is happy to help.
Generate privacy policy for Facebook Lead ads