As a professional, personal branding is key. Especially if you're a freelancer aiming to expand your business and create a network of clients: you need to stand out in a competitive environment. That's why you need a recognizable personal brand logo!
In this guide, we'll explain why having a personal brand logo is so important, how you can create one, and give you some tips and personal logo ideas.
In this guide:
What is a personal brand logo?
A personal brand logo is a visual representation of your unique identity and professional persona. You can think of it as your brand's fingerprint: whether you're a graphic designer showcasing your work, an influencer reaching out to followers, or an entrepreneur pitching to investors, your personal brand logo will be at the forefront, making the first impression.
What should be included in a personal logo?
A personal logo represents you as a professional. Even though there are no fixed elements, it's a good practice to include your name or initials, to make yourself immediately recognizable. Then you may want to add your professional title (for example, copywriter, graphic designer, etc.) or a unique symbol.
Remember that the main goal is to stand out from a crowd of competitors, but at the same time to align it with your industry and personal aesthetics.
How do I create a personal brand logo?
There are different ways in which you can make a personal logo.
Hire a graphic designer
The first and most effective way is to hire a graphic designer. If you're not an expert designer, creating a good personal brand logo may be challenging. A professional designer will listen to your requests and deliver exactly what you asked. A good idea could be to look out for graphic designers with specific personal logo portfolios, to ensure they align with your aesthetics. You can use platforms like Fiverr and Upwork to find them.
Hiring a professional may be more expansive compared to other tools, but you can consider it as an investment in your business.
Design it yourself
Even if you're not a designer, you may decide to create your personal brand logo yourself.
First, you should seek inspiration on the internet. Use visual platforms like Pinterest or Instagram, and check the competition: how are your competitors' logos? You'll have a better idea of how to structure your own personal brand logo, what colors to use, what typography to pick.
For the designing part, you can use platforms like Canva or Figma. They offer designing tools that are intuitive and very easy to use. If you wish, you can also start with a customizable template and adapt it to your brand. Take a look at Canva's templates for personal logos, for example.
Use an AI logo generator
Finally, you could use an AI logo generator, like Tailor Brands Logo Maker or Hostinger Logo Maker. The process of generating a logo with an AI tool is straightforward:
Add your name or brand name.
Select your industry.
Choose the logo type you want: an icon, a logo with your initials of your full name.
Lastly, choose a style you like.
The tool will automatically create a logo for you.
These tools are fast and handy, but they usually offer fewer customization options compared to other design tools. Moreover, there's the risk of generating a logo that is similar to other brands. So be aware of that.
Tips for designing your logo
Make it personal
Your logo should be an extension of yourself. Whether it's a motif that has personal significance or a design that mirrors your personality, it should resonate with you. Making your logo personal will also help you stand out more.
Align it to your industry
While customization is key, it's also important to be aligned with your industry. For example, a tech professional might lean towards modern, sleek designs, while a florist might prefer floral motifs.
Follow color psychology
There are studies that show how colors can affect human behavior, emotions, perceptions, and decision-making. Color psychology explores the psychological and emotional responses that different colors can trigger in individuals, and it is now broadly used in marketing and graphic design. For example, red is often used to grab attention and create a sense of urgency, while blue usually conveys trust and stability (that's why it is often chosen by banks and tech companies).
You can use color psychology to your advantage: check the meaning of each color here.
Keep it simple
Remember, simplicity often trumps over-complicated designs. A straightforward and simple logo will serve you better in the long run, because it's easier to remember.
👋 For a better first impression, read these guides!
Personal logo examples
Now let's go over some personal brand logo examples that can help you visualize what we just explained so far.
Neil Patel, Digital Marketing expert and entrepreneur
Neil Patel is a digital marketing expert and entrepreneur. His logo is very simple: his full name in bright orange and clean lines. Orange is a color often used for many digital marketing solutions because it easily grabs attention and conveys the idea of being bold.
Chiara Ferragni, Influencer and business owner
Famous Italian influencer Chiara Ferragni also chose a logo featuring her full name and a personal symbol, a blue eye. With clean black lines, the logo mirrors high-fashion logos, but the use of the eye makes it instantly recognizable.
Adriene Mishler, Yoga instructor
Adriene Mishler is a yoga instructor, and her logo is a perfect representation of what she does. Soft, elongated lines that give the idea of someone stretching.
Max Schrems, Privacy Lawyer and Data Protection activist
Max Schrems is a privacy lawyer and online privacy activist. This is reflected in his logo, which resembles a URL, given the dot that separates the syllables of his last name.
As you can see, having a recognizable personal brand logo is fundamental for your business. Even if you don't have a great budget to spend, there still are personal brand logo generators that can help you create an effective logo for your brand. Just remember to make it personal, to reflect your personality and your business.
About us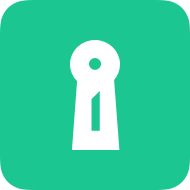 Attorney-level solutions to make your websites and apps compliant with the law across multiple countries and legislations.