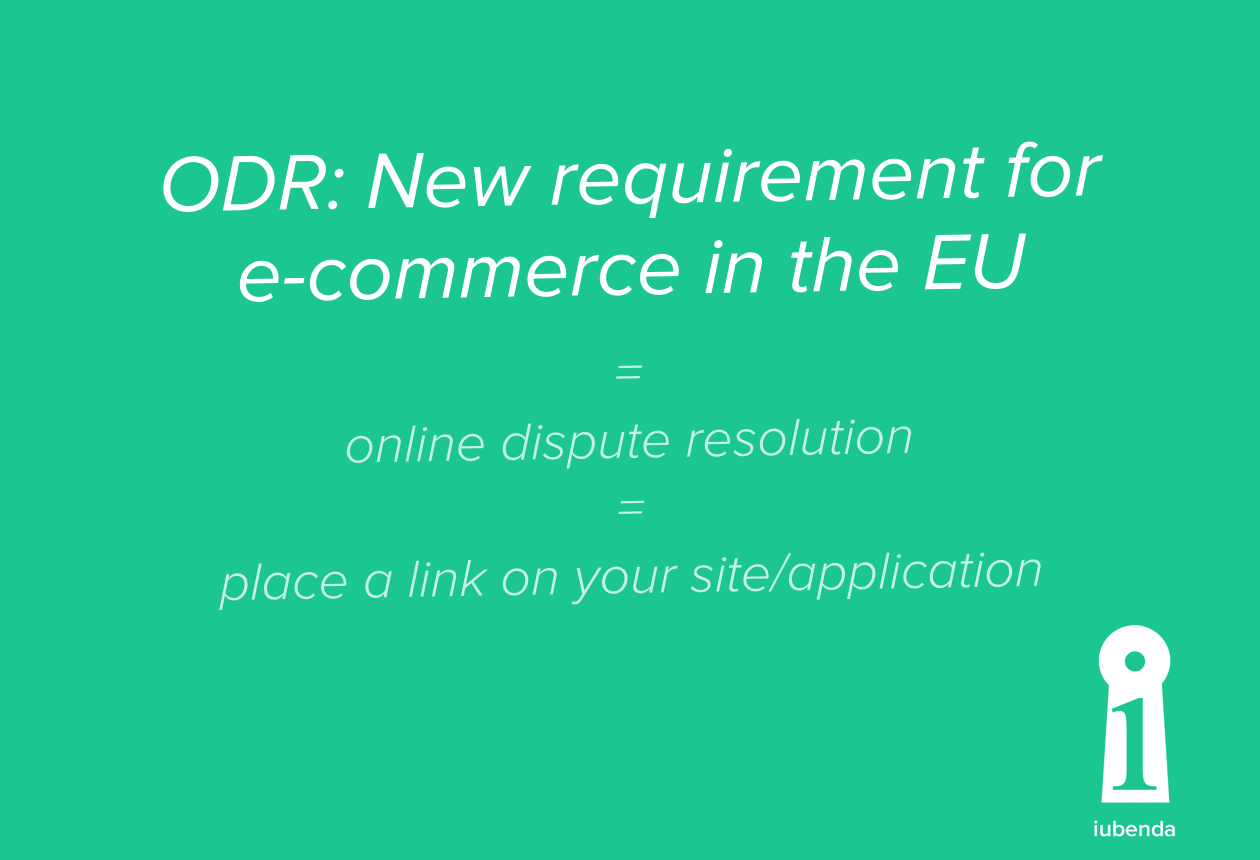 This is a quick heads up regarding a new piece of information that should be added to online e-commerce sites/applications: a link to an online dispute resolution platform run by the European Commission.
Since early 2016: If you operate an e-commerce selling goods or services in the EU to EU customers, you need to add information regarding ODR to your site/application.
What is ODR?
ODR, or "online dispute resolution" is a process that allows consumers based in the EU to easily file complaints regarding online sales (services and contracts) against companies which are also established in the EU. Pursuant to article 14 of regulation 524/2013/EU, these companies are required to inform their users via a link to the Online Dispute Resolution platform provided by the European Commission.
To summarize, the requirement to inform on the website arises when:
your company is based in the EU and sells goods or services online;
and your company sells to European consumers;
This is what we've added to our own terms:
Online dispute resolution for consumers
The consumer resident in Europe must be aware that the European Commission has established an online platform for alternative dispute resolutions that provides for an out-of-court method to solve any dispute related to and stemming from online sale and service contracts. As a consequence, if you are a European consumer, you can use such platform for resolving any dispute stemming from the online contract entered into with the Owner. The platform is available at the following link (http://ec.europa.eu/consumers/odr/).
The Owner is available for any questions via the email address posted under the Owner's information in this document.
The above is in our opinion going well beyond what's needed as a disclosure on the site, but we like to give a clear explanation of what this new instrument is.
Need help?
Iubenda has an international legal team that can assist you on custom terms and conditions and privacy policy.
Since first offering the privacy policy generator, iubenda has come a long way. We have a strong legal team, completed by several international partners, that can assist you with the drafting of custom terms and conditions, custom privacy policy, or with your business' online compliance in general.
Hundreds of companies have already experienced our tailored services across Europe, North America and Australia. Since they're part of our network, we added the ODR clause for them, completely for free. If you need assistance or if you want to learn more, just email us at info@iubenda.com and we'll be happy to offer you more information and a free quote estimation.
About iubenda:
iubenda is an online service that makes it easy for website owners, app developers, agencies and enterprises to generate and maintain a privacy policy.
Iubenda also helps out with customized work for businesses that need more than a great web-based generator and service.
Contact us to learn more on our assistance services
—
Legal basis:
The above requirements are based on the ADR directive (Directive on Consumer ADR) and the ODR regulation (Regulation on Consumer ODR). Here below, you'll find an outtake:
Consumer information
1. Traders established within the Union engaging in online sales or service contracts, and online marketplaces established within the Union, shall provide on their websites an electronic link to the ODR platform. That link shall be easily accessible for consumers. Traders established within the Union engaging in online sales or service contracts shall also state their e-mail addresses.
2. Traders established within the Union engaging in online sales or service contracts, which are committed or obliged to use one or more ADR entities to resolve disputes with consumers, shall inform consumers about the existence of the ODR platform and the possibility of using the ODR platform for resolving their disputes. They shall provide an electronic link to the ODR platform on their websites and, if the offer is made by e-mail, in that e-mail. The information shall also be provided, where applicable, in the general terms and conditions applicable to online sales and service contracts.
The future of ODR?
It's very soon after the ODR requirement came into force, now it's going to be interesting to see the various interpretation levels and other things that will come off this regulation. Even the European Commission was late with publishing their tool on the 15th of February.